At DuraFlap Drill-Less Mud Flap Sets, we know pickup trucks sure make life easier!  Whether you use your pickup truck to haul yard debris, pull a 5th wheel, or help your friends move to a new place, you rely on your rig for many facets of daily life.  But did you know these interesting facts about trucks?
Your modern pickup truck doesn't just have more bells and whistles of those from decades previous, but they are much more efficient, too. In fact, you would have to get the engines of 60 of today's pickups running to match the exhaust emissions of just one truck manufactured in 1988.
World War II didn't just mean rations on sugar; it also meant no new civilian vehicles. During the war, the United States stopped production of all trucks except for those that would be used in the war efforts.
Few truck owners actually use their pickups for work. In fact, over 85% of truck owners reported using their pickups for strictly recreational purposes.
Can you guess which state has the most pickup trucks? While you might be inclined to guess Texas or Alaska, the greatest amount of trucks are actually in California—just over 4.6 million of them!
The first pickup truck to become a popular choice with consumers was produced by Henry Ford in 1925. Known as the Ford Model T Runabout, it featured the traditional Model T front-end with a pickup bed in the back.  However, the first attempt at producing a utility pickup truck was in 1896 by Gottlieb Daimer.  His version resembled a motorized cart with open-air seating.
No matter your reason for owning a pickup truck, you'll want to protect your investment to keep it in top shape for years to come.  Choose easy-to-install drill-less mud flaps from DuraFlap!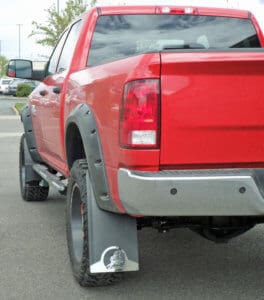 Mud flaps protect your vehicle from harmful road debris that can kick up and scratch or even dent your truck.  DuraFlap's anti-sail design prevents wind from pushing the mud flaps up, giving your truck increased protection from rock chips.
Drill-less mud flap Sets from DuraFlap are manufactured to fit holes already existing in the wheel well of your vehicle.  Choose from popular models such as Chevy, Dodge, Ford, and others; or use our simple video instructions to order drill-less mud flaps custom made for your vehicle.
Click here to see more of our custom drill-less mud flaps and learn more about how DuraFlap's patented drill-less mud flap sets can protect you and your investment!