Whether you are in the market for a new RV or you're getting your current home-on-the-road ready for spring and summer travel, making sure your motorhome has proper RV mud flaps should be on your checklist.
Today RV mud flaps come in a variety of styles and can be customized according to your RV's manufacturer or your own personality.  RV mud flaps, however, serve more purposes than to be a decorative accessory to your motorhome.
Here are just a few reasons it's important to have mud flaps on your motorhome:
Mud flaps prevent your wheels from kicking up rocks and gravel onto other vehicles sharing the road with you. Keeping everyone on the road safe is the number one priority when traveling.
If you are towing a vehicle, mud flaps help prevent rock and debris from flying up and denting the toad.
Mud flaps protect your motorhome from being scratched and dented by kicked up debris. Those dents and dings can result in costly repairs, or left alone may corrode and lead to further damage.
Mud flaps prevent road debris from building up inside your wheel well. Keeping the wheel well clear is important for your tires to remain clean and have good traction with the road.
Mud flaps prevent the undercarriage of your motorhome from being damaged by road debris, oil, or other contaminants.
Depending on the state you're traveling in, local laws may require you to have mud flaps on your RV, especially if your motorhome is a dually. Check with individual state Department of Transportations for current regulations to determine requirements where you'll be traveling.
Ready to install or replace mud flaps on your RV?  Our team at DuraFlap is ready to help!  We can outfit your RV with wheel well mud flaps, rear mud flaps, and RV mud flaps to help make your road trip a safe and comfortable one.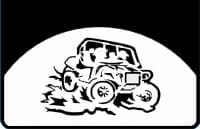 Add customization to your rear mud flaps or RV mud flaps.  Choose from our catalog of over 100 custom designs or submit your own drawing or logo and we will create it for you.
Our custom designs are cut into 14-gauge mirror-finish STAINLESS STEEL, or for an additional $40, choose to upgrade to our satin finish stainless steel to reduce sun glare for drivers behind you.
Want to see how easy it is to protect your investment?  Contact us today to get started!