One trip to the auto parts store will reveal shelves containing hundreds of types of conventional and synthetic oils.  Selecting the right type of oil to keep your investment running smoothly can be confusing.  Our helpful staff at DuraFlap created this quick explanation to help you understand the differences between conventional and synthetic oil.
What's the difference between conventional and synthetic oil?
Conventional mineral oil is a petroleum product that has been used since cars were first invented.  As crude oil is mined from the ground, it is distilled into a number of products including conventional mineral motor oil.  After completing the distillation and filtering process, a number of additives are mixed into the oil such as detergents, rust inhibitors, and friction modifiers.
Synthetic oil first hit the market after World War II when oil became scarcer.  Motor oil companies were pressured to develop longer-lasting oil with greater performance.  While it can be produced from a number of source materials, most synthetic oil is made from a base of crude oil just like conventional motor oil.
The difference is how it is processed.  It is called "synthetic" because the crude oil is transformed into motor oil through a process where, after distillation, the material is synthesized in a laboratory to modify the physical and chemical characteristics of the oil.  A number of additives are also blended into synthetic oil.
One of the primary differences is that because of how it is synthesized in a laboratory, the resulting motor oil is composed of identically sized molecules.  As described below, this creates a number of benefits for synthetic motor oil.
Not all synthetic motor oil is 100% synthetic.  Most options on the shelves are a blend of synthetic and conventional oil.
How do conventional and synthetic oils perform differently?
Many drivers still use conventional fuel and are very satisfied with their engine's performance.  The cost of conventional fuel is much less than synthetic, so while it requires more frequent changes, many owners feel it has greater value.
However, many drivers feel synthetic oil leads to improved engine performance.  The uniform size of molecules in the oil results in less friction, thereby keeping the engine cooler.  The oil itself goes through a more significant refinement process and the additives further increase its ability to keep the engine clean.  Synthetic oil also maintains its thickness regardless of how hot or cold the weather conditions are.  This helps the engine to perform well in extreme conditions.
Regardless of whether you choose conventional or synthetic oil for your truck, always make sure to choose a product with the viscosity grade and engine oil specifications listed in the vehicle's manual.
Further protect your investment with no drill mud flaps from DuraFlap.
No drill?  You read that right!!  With just a few quick measurements, we can set you up with mud flaps that use existing drill holes in your truck's wheel wells.  While they will require professional installation, our no drill mud flaps can often be installed for as little as $30 per pair.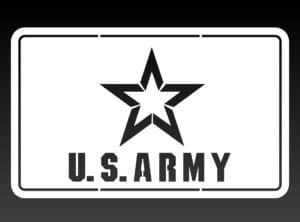 Personalize your vehicle with a customized mud flap.  Our online catalog features hundreds of designs such as an American Flag, a depiction of the Soldiers Memorial, and the US Army Star.  Have an interest that's not in our catalog?  We can use your artwork to create a unique custom design.
Ready to see how easy it is to add no drill mud flaps to your vehicle?  Contact us today to get started!