Headed out for some sunshine?  Here are a few quick tips to keep Fido safe while traveling in your pickup truck.
With most of our nation currently participating in solitary activities, this may be a great time to take your family and your dog out for a walk at a local park.  Here are some tips from the team at DuraFlap about traveling safely with your four-legged companion in your pickup truck.
Do not allow your dog to ride unrestrained in the bed of your truck.
Even though you are likely only driving a short distance to your favorite park or walking path, it is still unsafe for a dog to be riding unrestrained in the back of a truck.  Most accidents occur within 5 miles of the driver's home and the slightest fender bender can seriously injure an animal.  Dogs can also be distracted by other animals or people and may not be squarely braced for a turn or quick stop.
Use a safe method to secure your dog in the bed of your pickup truck.
Talk with the experts at your local pet store to choose the correct size crate or travel kennel for your furry companion. Make sure the crate is secured safely to the bed of your truck directly behind the rear window.  This location will limit the amount of wind flying into the crate.
If you must transport your dog in the bed of your truck and you don't have a dog crate, use a short harness securely fastened to the bed of your truck directly behind the cab.  Beware; a long harness can cause strangulation.  This method should only be used as a last resort and for a short distance.
Allow your dog to ride in the cab with "seat belts."
Many pet stores sell harnesses appropriate for small to large dogs that will secure your pet to the seat or seat belt system in your pickup truck.  Using a harness will not only keep your pet in his or her seat while you focus on the road, it will help to prevent a pet from being thrown around in a vehicle in the event of an accident.
Keep your pickup truck safe with drillless mud flaps from DuraFlap.
With just a few quick measurements, our team can custom produce drillless mud flaps to fit your pickup truck perfectly.  Our mud flaps are constructed with an anti-sail design that prevents wind from pushing the mud flaps up, giving your truck increased protection from rock chips.  "Rain Grooves" direct rain, snow, and road debris down and away from your vehicle.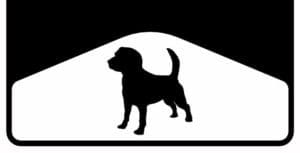 Personalize your vehicle with a customized mud flap.  Our online catalog features hundreds of designs such as a Beagle Dog, a Golden Retriever, and the Veterinarian Logo.  Have an interest that's not in our catalog?  We can use your artwork to create a unique custom design.
Ready to see how easy it is to add drillless mud flaps to your vehicle?  Contact us today to get started!