As serious pickup truck lovers, we can spot a Ford F-150, a Toyota Tacoma, or a Honda Ridgeline a mile away; but what is this new Rivian pickup truck?  It's very likely you may not have heard about it yet, so our team at DuraFlap thought we'd bring you some news about this new entrant to the consumer pickup truck market.
Rivian is a company built of people who love adventure and are dedicated to keeping our ability of exploring the world available for generations to come.  Developers have created powerful trucks capable of on-road and off-road high performance with vehicles powered by electricity.  That's right…electricity!
According to Rivian, their first truck models, the R1T and R1S, have ranges of over 400 miles on a fully charged battery, and show "an unmatched combination of performance, off-road capability, and utility."  Plus, they look really cool.
It's serious business and its getting notable attention from big name investors.  Rivian has development teams in 3 US cities plus one in Canada and another in England.  Rivian's manufacturing center, a 2.6 million square foot facility, is located in Normal, Illinois.  In December 2019, Amazon and Ford Motor Company both invested in Rivian as well as a number of other investors to the tune of $1.3 billion.
If all goes as expected, you're likely to see this new pickup truck available to the public towards the end of this year.
Regardless of the type of pickup truck you drive, choose DuraFlap to protect your vehicle from damage from road debris and keep your passengers safe from treacherous road conditions.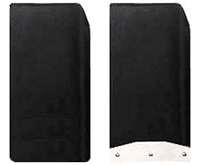 Our universal mud flap is made from the finest quality materials available and designed not to tear, peel, fade, rust or break.  And best of all, with a few quick measurements from you, we construct our universal mud flap to fit your pickup truck or SUV perfectly.
Want to see just how easy it is to add custom mud flaps to your truck?  Visit us at duraflap.com or contact us by email at info@DuraFlap.com today!