Need more protection for your RV or Tow Vehicle? High-quality mud flaps are an economical, effective measure to ensure longevity and overall quality of your rig.
STYLE IS ALWAYS IMPORTANT when it comes to tricking out the exterior of your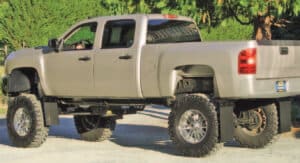 tow vehicle or RV with aftermarket components. While many cool choices are available, mud flaps aren't always at the top of the list. However, these often-forgotten-about-accessories are a key means of maintaining your rig's condition, with good looks to match.
Rocks, debris, gravel, ice, and winter salt can take a toll on the underside of your truck, as well as the exterior of the RV that's being towed behind it. Short of getting a new exterior paint job, replacement bumpers, or even new finishing for your trailer, mud flaps are a simple, affordable solution for optimal protection from damaging road debris. Continue Reading on Snowbirds & RV Traveler's Magazine>>>