Ever dream of driving your pickup truck for one million miles?  That's equivalent to taking a road trip around the world forty times!  For many of us, we feel fortunate if we get 200,000 miles on the odometer during the lifespan of our vehicle, but one man in Illinois had higher aspirations for his truck.
Brian Murphy, a Chicagoland delivery driver, purchased a two-wheel drive, 4-cylinder 5-speed manual Nissan Frontier King Cab pickup truck in June 2007.  His goal?  To successfully reach one million miles driven in his truck.
How long would it take an average person to accomplish this?  According to the US Department of Transportation in 2018, the average number of miles driven annually is 13,476.  At that rate, it would take just over 74 years to drive one million miles.
How long did it take Murphy to accomplish this?  Only 12 and a half years.  On January 27, 2020, Murphy announced his achievement.
Murphy chalks up much of his success to regular maintenance at a local shop, careful driving, and do-it-himself oil changes every 10,000 miles because his Nissan Frontier held up extremely well.  The original clutch lasted for the first 801,000 miles before finally being replaced.  Murphy replaced the timing chain as a preventative measure at 700,000 miles.  The alternator and radiator both made it about 450,000 miles.  Of course, the driver seat had to be replaced, but it also lasted a whopping 500,000 miles.
To help Murphy celebrate his accomplishment, Nissan is awarding their amazing client with a brand new 2020 Nissan Frontier.  According to Murphy, "I never imagined I'd be given a new truck, especially since my Frontier is still running strong. It will be a real treat to have an efficient V6 engine, but I guess I'll have to find another way to exercise now that I'll have an automatic transmission and power windows."
Whether you plan to keep your truck for 100,000 miles or one million miles, protect yourself and your vehicle with mud flaps from DuraFlap.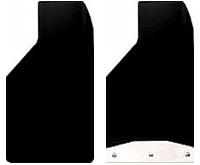 Our Universal mud flaps can installed on any make and model of pickup truck, even the most modified rigs.  Our drill-less mud flaps include an anti-sail design to prevent wind from pushing the mud flaps up, giving your truck increased protection from rock chips.  Your truck will look like new for years to come.
Want to see how easy it is to protect your investment?  Contact us today to get started!