Lifted Truck
Lifted Truck Mud flaps with Set Back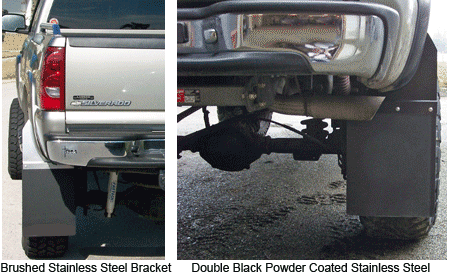 Our lifted truck packages come with custom length mudflaps and your choice of either Satin Stainless Steel Mounting Brackets OR Stainless Steel Mounting Brackets with Double Black Powder Coating (additional $40). They are designed to be hung in the wheel well with the mudflap attached below it. The bracket is bent below the fender well to position the mudflap back away from the tires to prevent rubbing.
The standard bracket is designed to be pulled out as much as 2.5" beyond the metal fender well lip to cover tires that are sticking out from under the fender well. The set back is 2" deep, moving the 3/8" thick mud flap back 1.5" behind the tires. Custom sizes allowing for more movement or a further set back may be ordered by phone.
Before ordering below, it is best to read these pages to determine the right length of mud flap for your lifted trucks.

How To Determine Your Length of Mudflap
Tips To Consider Before You Decide On Length
Lifted Truck Bracket Installation – Front Bracket Installation – Rear Bracket Installation
Once you have determined the "Length of the Mudflap", you can order below, then you will be able to enter your choice of mounting bracket and length.
Showing all 12 results