It may seem like the ball dropped in Times Square only yesterday, but we are well on our way to spring break.  Taking a road trip in your RV for a weeklong retreat in March with your family is the perfect way to recharge after a hectic holiday season.
Our team at DuraFlap put together this list of fun, family RV destinations for you to consider as you plan your spring break vacation:
South Padre Island on the Gulf Coast of Texas. With an average annual temperature of 74 degrees, a few days near the palm tree lined beaches is sure to re-energize your soul.  There are plenty of outdoor activities on South Padre Island for the whole family including snorkeling, kayaking, dolphin watching, and golfing.
Fort Wilderness Resort in Walt Disney World, Florida. Choose between spending your days in any of WDW's four unique theme parks or relaxing at your campsite in Fort Wilderness Resort's 750-acre pine and cypress forest.  Disney offers a variety of family activities in the resort including archery, horseback riding, and canoeing.
The Grand Canyon National Park, Arizona. Add an interesting geography lesson to your spring break itinerary with a trip to one of the 7 Wonders of the World.  View layers of sedimentary rock that built up millions of years ago and cut by the Colorado River.  Several campgrounds are available, but advance reservations are highly recommended.
Steamboat Springs, Colorado. If you're not ready to pack away your warm clothes and winter sports, a spring break trip to Steamboat Springs may be perfect for your family.  Expect a chilly average temperature of 43.7°F and a base of about 19 inches of snow.  Enjoy all forms of winter sports including skiing, snowboarding, and snowshoeing or kick back with some live music in one of their many local venues.
Wallowa Lake, Oregon. Sometimes called "The Switzerland of the Americas," Wallowa Lake is a crystal blue, ancient glacial lake sitting amongst the picturesque Wallowa Mountains.  It is truly a sight like none other in the United States.  Home to recreational enthusiasts and artisans alike, there are activities for every member of your family here.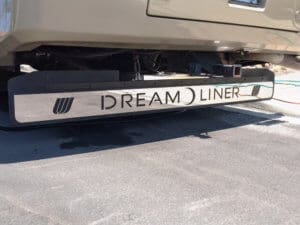 No matter what destination you choose, make sure your RV is fully protected with an RV mud flap from DuraFlap.  We have original equipment manufacturer sized mud flaps for many popular models including Beaver, Entegra, and Monaco, or choose a custom RV mud flap to fit your motorhome perfectly.
Want to see how easy it is to protect your investment?  Contact us today to get started!