It's never too early to start dreaming of your next RV road trip. Make your family vacation a bit more interesting by visiting one of these locations, each with its own very unique and unexpected features:
Dead Horse Point State Park
If you're looking for an adventure that seemingly takes you to another planet, Dead Horse Point State Park may be the destination for you. This Utah State Park features breathtaking views of rock chiseled 2,000 feet deep by the Colorado River. Exposed layers of sediment from ancient oceans, freshwater lakes, streams, and sand dunes create spectacular layers of colors as far as the eye can see.
Assateague Island
Local residents welcome visitors to Assateague Island where visitors can embrace hour upon hour of rest and relaxation. The unusual part is that the "locals" are actually wild horses that roam free on the island. According to local folklore, the horses arrived on the island when a shipwrecked off of the Virginia coast. You'll enjoy observing these animals from a distance as you enjoy beautiful beaches, kayaking, and sand dune recreation. Camping is available at Assateague State Park and Pocomoke River State Park in Maryland.
Deadwood, South Dakota
Enjoy a visit to the Wild West of America with a stay in Deadwood, South Dakota. Visit the streets once roamed by Wyatt Earp, Calamity Jane, and Wild Bill Hickok.  The town itself has been entirely restored, so you'll feel you've stepped back in time as you enjoy the local casinos, bars, restaurants, and tourist shops. The entire family will enjoy learning about history by watching one of the town's historic reenactments.
Wherever the road takes you, make sure your RV is ready to travel with RV mud flaps from DuraFlap
DuraFlap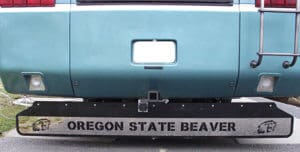 produces easy-to-install wheel well and rear mud flap for most motorhomes.  Choose OEM (original equipment manufacturer) rear mud flaps for makes such as Beaver, Entegra, and Travel Supreme, or contact us to produce a design from your own custom artwork or personalized text.
Getting set up with the right RV mud flap for your motorhome is quick and easy.  Just contact our team today to get started.
We are excited for you to begin a new season of creating memories on the road.  Stay safe and enjoy your friends and family wherever the road takes you!