Now that the weather is changing and wintery conditions will soon be upon us, it's the perfect time to install or upgrade the mud flaps on your truck.  Mud flaps serve as protective guards behind your tires to prevent rocks, water, snow, and mud from being projected upward onto your car or other vehicles on the road.
Mud flaps are one of the most cost-effective investments you can make on your truck.  Here are five key reasons you need a good set of mud flaps:
Protect the exterior of your vehicle. As you're driving down the road, rocks and road debris are being kicked up by your tires.  Without properly fitting mud flaps, this material can easily scratch and dent your truck.
Keep dirt, mud, and sludge out of your wheel well. In wet and wintery conditions, wheel wells can get filled with all kinds of soggy road debris.  That material eventually falls from the wheel well back onto your tires and can lessen the traction between your tires and the road.
Protect people around you. When your tires kick up debris from the road, it can damage other cars on the road or hit pedestrians on the sidewalk.
Keep your car cleaner. Road debris, mud, and sludge can coat the lower parts of your truck, requiring you to wash your truck more often.
Give you peace of mind. Regardless of the on-road or off-road conditions you're driving in, you won't have to worry about rocks, mud, or sludge damaging your truck and you know you'll have the best traction your tires provide.
DuraFlap makes the installation of perfectly fitting mud flaps easy.  We already have size and specifications for most popular truck makes and models, and we can custom produce mud flaps for other vehicles based on a few quick measurements from you.
American Flag Custom Weight
DuraFlap's mud flaps and splash protectors are custom made from the finest quality materials available.  They are designed not to tear, peel, fade, rust, or break.  Our exclusive "Rain Grooves" direct rain, snow, and road debris down and away from your vehicle.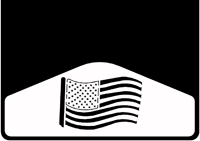 We can work with you to design the perfect set to reflect your unique personality.  Visit our online artwork catalog to see over 100 designs like the American Flag, Flames, and US Army Star.  If you don't see exactly what you want, contact us and we can create a custom design based on your ideas and artwork.
Adding mud flaps to your truck just takes one phone call!
Get your truck ready for winter early!  We'll help you get set up with the perfect addition for your vehicle.  Contact us today to get started!