Products /
Do It Yourself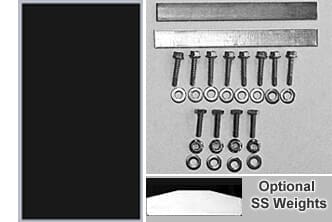 Our Do It YourSelf Mud flaps are great for the person who wants to make their own shape/cut and save a little money.
The blank material is rectangular in shape with straight corners instead of our radiused corners. There are two types of hardware kits available according to the size of Mudflap Ordered.
We provide both With or Without Mirror Finish Stainless Steel weights.  Pockets will not be created for the weights, and weights will not be installed.  This allows for mud flap modifications.
The weights will not be attached to the blank material to allow the do-it-yourselfer to position them where they prefer.
 Sorry, due to the already low prices for these mud flaps, No Discounts are available on our DIY Kits.
Showing all 7 results