With fall and winter come days filled with fog, rain, snow, and other hazardous conditions.  Before you hit the road, make sure your truck or RV is equipped with the best headlights and no drill mud flaps to be safe on the road.  Here's some easy advice from the experts at DuraFlap:
Should I choose halogen or LED headlights?
Halogen headlights are by far the most common and least expensive type of headlight out there, but LED lasts longer and maybe more effective.
LED headlights are considerably brighter than halogen.  While they require 260% less energy than halogen lights, on average the emitted light is 275% brighter and they last up to 20 times as long.
Another benefit of LED headlights is that they cast a wider light pattern, providing more visibility of what's going on in the shoulders of the road.
There's definitely a trade-off for cost, though.  LED headlights, including the assembly units and conversion kits, can cost ten times or more what you'd pay for a halogen headlight.
I want to keep my halogen lights.  What can I do to improve them?
Here are a few simple ways to maximize the effectiveness of your halogen headlights:
Examine bulb brightness. Halogen bulbs dim over time.  Technicians can check the brightness of your lights and make sure they are properly aligned when you have your vehicle serviced.
Clean the cover. If your vehicle is more than a few years old, the clear plastic cover on your headlights may be oxidized.   A quick search on the Internet will provide you with a myriad of products you can purchase and tutorials to show you how to use materials you already have at home to clean your headlights.  Talk with the professionals at your dealership to determine what's best for your vehicle.
How do mud flaps keep my vehicle and me safe?
Properly fitted mud flaps prevent rock and road debris from kicking up and hitting your vehicle or those around you.  DuraFlap's No Drill Mud Flaps are the perfect solution.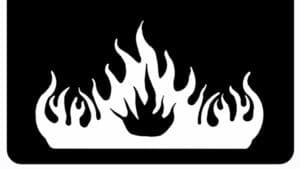 DuraFlap's patented design makes it easy to select and install the right mud flaps for your truck or RV.  Our No Drill Mud Flaps use the factory-drilled holes on your vehicle, making installation a breeze.
And, when you order your no drill mud flaps, it's easy to customize them to fit your unique personality.  Check out our website to see over a hundred designs such as our Bull Dog,  Flame n Fire, and Team Ropers.
Click here to see more of our custom mud flaps and learn more about how DuraFlap's patented no drill mud flaps can protect you and your investment!