Patented Drill-less Installation
Don't add more holes to your truck - avoid additional rust spots.
Easy to Install - YOU DO NOT NEED TO REMOVE YOUR TIRES
NO guess work – Our Mudflaps are designed to be centered behind the tires.
Other mud flaps take more time and precision to install correctly and often require the removal of your tires to fit a drill into position.
Most Protection for your Truck
We offer FULL-size Mud Flaps for optimum protection of your vehicle and what you tow.
The others sell narrow, short splash guards, which do not provide the protection your truck deserves.
Perfect Fit Everytime
Only DuraFlap offers computerized cutting and custom sizes to provide the perfect fit every time.
Have a Modified Truck?  We are the only mud flap company that can custom fit a drill-less mud flap to your truck.
Best Materials
3/8" thick Polyethylene/Rubber blend material - will not crack, peel, tear or fade.
Rain Grooves direct the rain, mud, and snow down to the road - Flat surfaces allow these to work their way around the mud flap to hit the truck
Anti Sail design - Reinforced edges keep the mud flap from flying up behind the vehicle as it moves down the road
Michael in Ohio
I purchased some extra long mudflaps for the rear of my 2018 Silverado 1500. It is not lifted but I wanted the extra length to keep the tires from flinging crap onto my trailer.
I want to say that so far I am very pleased!! The install was super simple and they look great!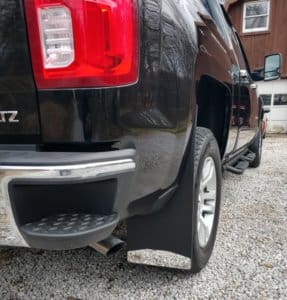 I have attached some pictures if you would like to add them to your website.