If you're lucky enough to own an RV that fits you and your family perfectly, the next step is to locate a few great campgrounds for your next vacation.  To help get you on the road to relaxation, DuraFlap's team put together a shortlist of considerations for your next destination:
Is it a park or a parking lot? You'll find many "RV Campgrounds" across the country that more closely resemble a big box store parking lot than an actual campground.  While these are ideal pit stops during an extensive road trip, they likely aren't the locations your family will want to spend their days.  Make sure your destination has the relaxing, scenic environment you're looking for.
Be honest. Do you need to stay connected to the outside world?  Yes, everyone says you should ignore your emails and keep your phone off, but let's get real.  You may want to share your adventures on social media or be able to email with family back home.  Contact the campground to learn if Wi-Fi is available, where it can be accessed, and what the connection speed is.
How clean is the restroom and shower? Sure, a big benefit of camping in your RV is having your own bathroom.  However, it can be a tight space and you might be a mess after your fishing/hunting/hiking excursion.  Check out blogs and website reviews to get the true critique of your campground's facilities.
Be prepared for "Mom and Dad, I'm bored!" Many campgrounds have fun activity programs for vacationers of all ages.  Does the campground have an "Activity Director" listed on the website?  Call ahead and ask for a programming schedule.  You may be able to make your vacation a learning adventure.
How convenient is the closest store? Regardless of how prepared you are before leaving home, you're sure to find something you forgot as soon as you start preparing meals at the campsite.  Being surrounded by nature is amazing, but how hard will it be for you to get a jar of mayonnaise or a box of bandages?  Many campgrounds have a mini convenience store on-site.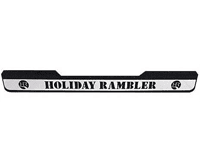 Now that we've gotten you excited for your next adventure, consider protecting your investment and increasing your safety on the road with DuraFlap RV Mud Flaps.  We have mud flaps designed for many popular models of motor homes such as Monaco, Holiday Rambler, and Safari.  Or, to give your RV an extra "wow factor" you can personalize your motor home with a custom-designed RV Mud Flap.
Contact our team today to learn more about our RV mud flaps and getting your vehicle ready for your next road trip.